PLACES
LOCATIONS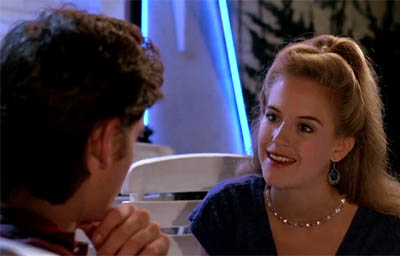 Locations Notes
Rewind the locations where they filmed the 1985 Romantic Comedy movie starring C. Thomas Howell, Lori Loughlin, Kelly Preston More Cast
Locations Manager(s):
Brian O. Haynes
Secret Admirer Filming Locations:
Burbank High School, Burbank, CA was used. You can see "Home of the Bulldogs" when C. Thomas, Lori and Kelly are walking on Glenoaks Blvd. in the scene when school is out. Most of the High School and bleachers were torn down during a subsequent remodeling of the school.
Michael's house: 1630 Warnall Avenue, LA [Thanks to Eric S]
Toni's house: 537 Delaware Road, Burbank [Thanks to Eric S]
Debbie's house: 107 North Citrus Avenue, Burbank [Thanks to Eric S]
Kappa Omega party: 7529 Franklin Avenue, LA [Thanks to Eric S]
Michael knocks Steve and takes his car at East Olive Avenue and North Kenneth Road, Burbank [Thanks to Eric S]
In the final scene, Michael screams for Toni and ultimately jumps into the water from Pier D, Port of Long Beach located at 555 Pico Avenue. [Thanks to Eric S]
The filmmakers also used McCambrige Park, just down the street from Burbank High. [Thanks to Julie]
Can you help? Please

Update This
Locations Links
If you know of a good link for Secret Admirer locations, please let us know.
LX Preview
LX is our radical new locations feature that we've been beavering away on.. For years!

Each location will have it's own page with then/now pictures, maps, StreetView, discovery story and the most detailed explanations on how the location was used. Most importantly, the locations will have a status that shows whether they are verified correct and by whom. We are working with the actual locations managers or other crew where possible. The whole thing will be very interactive and you will, of course, be able to update everything.
Jump To: Bungles & Goofs
Or use the menu to select another option
1985 Orion Pictures
1999-2018 fast-rewind.com
V4.0b Powered by Rewind C21 CMS