PLACES
LOCATIONS

Playing For Keeps Locations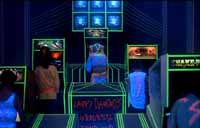 Locations Notes
Rewind the locations where they filmed the 1986 Comedy movie starring Daniel Jordano, Matthew Penn, Leon W. Grant More Cast
Locations Manager(s):
Nancy Vinicor
Playing For Keeps Filming Locations:
The opening scenes of the movie were filmed in New York city.
On location filming was done at Hawley Pennsylvania, USA. The house that was used in the movie is an abandoned estate in the mountains, set on the top of a hill near Bethany, PA, just north of Honesdale. It was formally a resort known as Bethany Colony and has real "Amityville" horror house appeal. After the movie, it became a drug and alcohol rehab center. [Thanks to Kevin Adolfson and Caroline Zimmerman]
The address of the mansion is 150 Noble Lane, Bethany PA 18431 [Thanks to Maura Brown]
Many of the townspeople who remember the movie were very upset because of the damage the crew did.
The house used to be the Woolworth estate (of F.W. Woolworth stores fame). Mrs. Woolworth died in the home in 1967, and her son didn't want anything to do with the house. It has passed through many different owners. The house currently is a part of a property that now an old-folks home, and is in terrible disrepair. [Thanks to Brian Eastburn & Caroline Zimmerman]
Also, most of the downtown shots were in Hawley, PA, but the scene with the grocery store is actually from a grocery store in Honesdale, on 6th Street. [Thanks to Kevin Adolfson]
The location in the movie where the girl was near a field, that was located on RT. 191 in Lake Ariel [Thanks to Penny]
There was a scene with a stage that was Honesdale High School Auditorium.
The scene where they were trying to cross a bridge was Wangum Falls Bridge on Wangum Road. That bridge is still there and the county wants to replace it and many want it to stay for historical reasons. [Thanks to honesdale2000]
The scene with a stage was actually a room in the mansion they made to look like an auditorium. I was one of the graduating classmates in the movie. [Thanks to Maura Brown]
Can you help? Particularly with The exact address of the house? Please

Update Us
Locations Links
If you know of a good link for Playing For Keeps locations, please let us know.
LX Preview
LX is our radical new locations feature that we've been beavering away on.. For years!

Each location will have it's own page with then/now pictures, maps, StreetView, discovery story and the most detailed explanations on how the location was used. Most importantly, the locations will have a status that shows whether they are verified correct and by whom. We are working with the actual locations managers or other crew where possible. The whole thing will be very interactive and you will, of course, be able to update everything.
Jump To: Bungles & Goofs
Or use the menu to select another option
1986 Miramax Pictures
1999-2018 fast-rewind.com
V4.0b Powered by Rewind C21 CMS