PLACES
LOCATIONS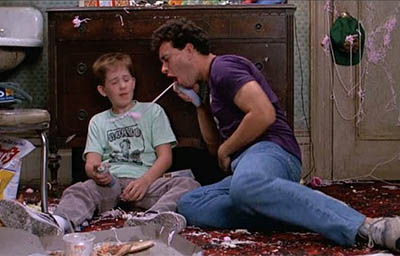 Locations Notes
Rewind the locations where they filmed the 1988 Comedy movie starring Tom Hanks, Jared Rushton, Elizabeth Perkins More Cast
Locations Manager(s):
Richard Baratta
Big Filming Locations:
Featured
Wanna see the real life filming location used for Toy Shop With Floor "Piano" in the movie?

These scenes were actually shot at FAO Schwarz, located in New York, New York. Google Map
Big was filmed on location in New Jersey and New York City.
The Baskin House was filmed at, 437 Greenmount Road, Cliffside Park, NJ, USA [Thanks to Dee83]
Locations used include Cliffside Park, NJ for young Josh's home and Cliffside Park Elementary School #6 as the school Tom Hanks attended. Palisades Interstate Park, Fort Lee, NJ was used for Josh's original Zoltar encounter and Josh finally catches up with the Zoltar machine at the abandoned amusement park, Rye Playland, Rye, NY. Josh and Billy first see Cynthia with her friends shopping at Anderson Avenue in Cliffside Park. [Thanks to Sena]
The "Department of Consumer Affairs" building where Josh and Billy go to to find the location of the Zoltar machine is located at 80 Centre Street. On a sad note, this same building is now used to assist the families who lost loved ones during the September 11, 2001 attack on the World Trade Center. [Thanks to Tim]
The Pizza Restaurant where Josh goes for his Birthday is called "Asti" and it's located on 12th Street in New York City. The Pizza place is still there with an autographed picture of Tom Hanks in the window. [Thanks to Mark Campbell]
The St. James Hotel, where Josh initially stays in New York City is still in business. It is on West 45th Street between Sixth and Seventh Avenues. It's not in that bad of an area as implied in the movie! [Thanks to Tim]
The park where the machine is located at is in Rye Playland at Rye, NY in Westchester County. [Thanks to Robert A. Wukich, Sr]
Can you help? Please

Update This
Locations Links
If you know of a good link for Big locations, please let us know.
LX Preview
LX is our radical new locations feature that we've been beavering away on.. For years!

Each location will have it's own page with then/now pictures, maps, StreetView, discovery story and the most detailed explanations on how the location was used. Most importantly, the locations will have a status that shows whether they are verified correct and by whom. We are working with the actual locations managers or other crew where possible. The whole thing will be very interactive and you will, of course, be able to update everything.
Jump To: Bungles & Goofs
Or use the menu to select another option
1988 20th Century Fox
1999-2018 fast-rewind.com
V4.0b Powered by Rewind C21 CMS