REWIND
OVERVIEW

"
Roommates by accident. -Lovers by choice.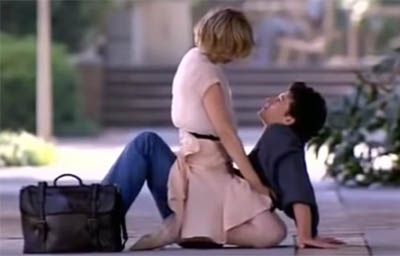 Starring
Patrick Dempsey, Helen Slater, Dan Schneider, Kevin Hardesty, Marius Weyers, Barbara Babcock, Gloria Hayes, Brad Pitt, Aaron Harnick, Ron Sterling, Eric Lumbard, Michael D. Clarke, Wendy Lee Marconi, Yvette Rambo, Shawne Rowe, Kate Hall, Hugo Huizar, Aviva Skell, Joan Kelly, Bryan J. Thompson, Tom Tarpey, James David Murphy, J.C. Quinn, Rocky Parker Update Cast
Crew
Data
Summary
This is a good film with a great heart, some fine acting and at times, real movie magic. Definitely one of the top 20 'must see' teen 80's romantic comedies.
Big hearted, funny, intelligent, romatic comedy, played with enthusiasm by the cast.

Not for the cynical or "adrenalin junkies"!
Rewind Rating
Next: Read Our Full Review
Review
When Chris (played by Patrick Dempsey) goes to study script writing at the college of fine arts in Los Angeles, he never expected that his room-mate would turn out to be the flamboyant, eccentric and luscious female acting student -Alex (played with style by Helen Slater).

Despite the fact that they are exact opposites and clash early on, their relationship quickly moves from platonic to full-on romance.

She helps to improve his heartless mechanical writing by injecting much needed passion into his life, while he provides much needed stability in hers.

"Happy Together" is basically a 'character movie' and a comedy about the two main characters. What makes it especially interesting is the fact that we, the audience, care about these people. They have lots of lovable eccentricity and a special chemistry. This is not an action movie. This more like a stage play on film. There is no plot to speak of... In a similar fashion to "About last Night" we just follow their life and the ups and downs in their relationship.

I've seen some pretty un-flattering comments about this movie on the net, but if you are a Generation X student of 80's movie culture, you can take it from me -- it's OK...

Chris and Alex are surrounded by a cast of funny, believable and interesting 'characters' that help them to keep the tone light and funny.

Music is used sparingly but definitely in the classic 80's style and yes, you'll be pleased to know that we have musical montaging here too.

-By the way: This movie is not to be confused with the 1998 gay film of the same title -beware if you order it from somewhere not 80's literate!
Author:
Nick
Update This Review
Next Section: The Movie Trailer
Jump To: Music & Soundtrack Vibes
Or use the menu to select another option
1989 Touchstone Pictures
1999-2018 fast-rewind.com
V4.0b Powered by Rewind C21 CMS