Oooops...
Oooops...
AKA: Ding Dong, You're Dead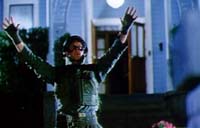 1986
Contributed by: Kevin Allustiarti
If you look closely at the flying gardening tools, you can see the strings that keep them suspended.
Seen a blooper in House?
Use our simple iRewind system to add a new movie mistake to this page in just a few clicks.

Click here to start...