MISTAKES
BLOOPERS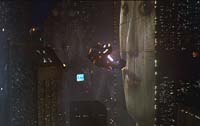 Oooopsy...
"Er, someone wasn't on top of their game that day..."
See the goofs, blunders and plain ole mistakes in the 1982 Sci-Fi movie starring Harrison Ford, Sean Young, Rutger Hauer More Cast
We believe the following are all legit mistakes. If we've bungled it, or you have additional info, please update us.
When Leon is having his test near the start of the movie, if you look closely just before Leon sits down, you can see that he his wearing a name tag on the left side of his chest area. Then when he has sat down it is missing.
When Zhora attacks Deckard, she is not wearing any lipstick, yet when she is killed and they roll her over she has bright red lipstick on.
When Leon and Deckard are fighting in the street, Leon swings at Deckard and puts a hole in the steel container. You can clearly see the spot has been cut out before Leon hits it.
When Deckard is at Tyrell corp, he prepares a test for Rachel with the VK machine. He is shown putting his briefcase on the table and lifting out the VK machine on to the table. If you look closely you can see that Harrison Ford is miming the lift as you can clearly see that he has nothing in his hands!
Thanks to
Joanna Murakami
The woman playing the Cambodian Lady is incorrectly listed in the credits as "Kimiro Hiroshige" and should be "Kimiko Hiroshige". This mistake is still seen even in Blade Runner: The Final Cut. Kimiko Hiroshige was my father's aunt, that is how I know. :-)
When Zhora is running through the glass in slow motion, she throws something from her right hand, looks like a piece of film as it unrolls. After she is killed, she is shown laying half in/half out of the window frame with her arms pointing straight ahead, face down. Next shot of her, she is not on the window frame, her face is turned and her arms pulled back.
Bogus Blunders
Sometimes an apparent goof is not a real mistake
But, nothing bogus that we know yet for "Blade Runner".
Next: Some Extra Goodies
Or use the menu to select another option
1982 Warner Bros.
1999-2018 fast-rewind.com
V4.0b Powered by Rewind C21 CMS