This is topic 70s disaster movies in forum Ŧ 70's Movies at iRewind Talk.


To visit this topic, use this URL:
http://www.fast-rewind.com/ubb/ultimatebb.php/topic/8/887.html

---
Posted by aTomiK (Member # 6575) on :

"A disaster film is a film genre that has an impending or ongoing disaster
(such as a damaged airliner, fire, shipwreck, disease, an asteroid collision or natural calamities) as its subject.
Along with showing the spectacular disaster, these films concentrate on the chaotic events surrounding the disaster,
including efforts for survival, the effects upon individuals and families, and 'what-if' scenarios.

These films typically feature large casts of well-known actors and multiple plotlines,
focusing on the characters' attempts to avert, escape or cope with the disaster and its aftermath.
The genre had its greatest box office success during the 1970s with the release of Airport (1970),
followed in quick succession by The Poseidon Adventure (1972), Earthquake (1974) and The Towering Inferno (1974)" (Wikipedia)

I like this genre and will watch few of these in the near future.
Do you guys like watching disaster movies and what are you favorite disaster films?

---
Posted by aTomiK (Member # 6575) on :

Heat Wave! (1974)

"The residents of an isolated midwest mountain town must band together to survive during a devastating heat wave." (IMDb)

Just watched this made-for-tv film directed by "the disaster movie guru" Jerry Jameson.
Starring Ben Murphy, Bonnie Bedelia (Die Hard), Lew Ayres, David Huddleston,
Lionel Johnston, Janit Baldwin and Dana Elcar.

This was a decent tv-movie, just a bit too melodramatic at times.
It is a very short movie, just about 67 minutes.

I remember reading that thereīs a bad heat wave again in America this year
which has caused massive crop failures throughout the Midwest among other problems.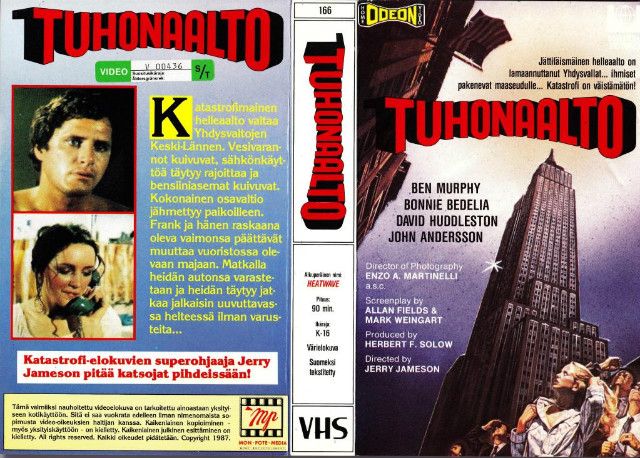 ---
Posted by Lovers with Cassie (Member # 7794) on :

The Towering Inferno. I own a copy of it on video and I watch it occasionally.

[ 19. August 2012, 22:06: Message edited by: Lovers with Cassie ]

---
Posted by Zigyma7ik (Member # 12351) on :

The Cassandra Crossing 1976.

---
Posted by Chris the CandyFanMan (Member # 3197) on :

And of course who can't forget the utter ridiculousness that is Irwin Allen's The Swarm, despite the fact they're sensitive enough to add a disclaimer to the credits exonerating native American bees from any blame that African killer bees might wrack ("Houston burning. You have to wonder, don't you; will history blame me, or the bees?")

---
Posted by The Good Package (Member # 9492) on :

the Poseidon adventure, that is your cadillac of disaster movies

---
Posted by aTomiK (Member # 6575) on :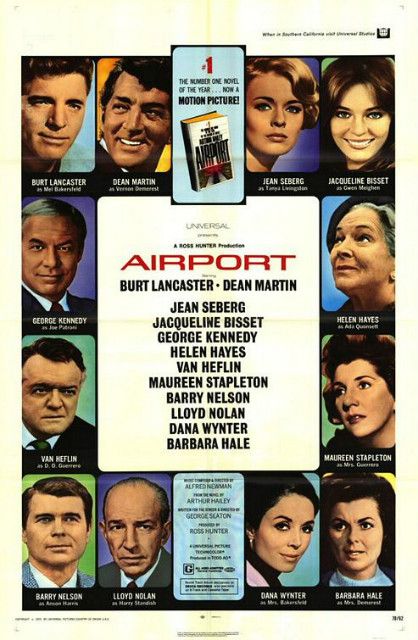 "Airport (1970) focuses on an airport manager trying to keep his airport open during a snow storm,
while a suicidal bomber plots to blow up a Boeing 707 airliner in flight.
The story takes place at fictional Lincoln International Airport located near Chicago." (Wikipedia)

Watched this entertaining film directed by George Seaton yesterday.
They say that Airport originated the 1970s disaster film genre,
establishing the convention of "microcosmic melodrama combined with catastrophe-oriented adventure"

I liked the cast very much, lots of familiar faces and
Jean Seberg and Jacqueline Bisset were so pretty.

The film cost 10 million and earned nearly $100,500,000.
Thatīs equivalent to $558 million and makes Airport the 42nd highest-grossing film of all time. (2010)

Most of the filming was at Minneapolis-Saint Paul International Airport
Thereīs drama and excitement plus you really care about the characters.

Recommended!

Airport trailer

Next: Airport 1975.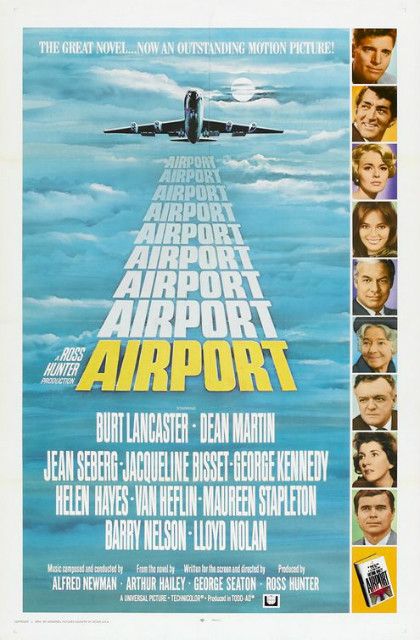 ---
Posted by aTomiK (Member # 6575) on :




"A 747 in flight collides with a small plane, and is rendered pilotless.
Somehow the control tower must get a pilot aboard so the jet can land." (IMDb)

This was a good sequel directed by Jack Smight.
Of course thereīs few unintentionally hilarious moments but i canīt help but like this kind of stuff.

Karen Black was great and it was also nice to see Linda Blair and Erik Estrada in supporting roles.
The other stars are Charlton Heston, George Kennedy, Efrem Zimbalist Jr, Susan Clark, Helen Reddy,
Myrna Loy, Gloria Swanson, Sid Caesar, Jerry Stiller and Roy Thinnes.
Kennedyīs Joe Patroni is the only continuing character from the first Airport film.

I really liked the cinematography, lots of excellent scenes where we can see the plane flying above the Rocky Mountains!

"Derided by critics upon its release, Airport 1975 was nonetheless a massive commercial success.
With a budget of $3 million, the film made over $47 million" (Wiki)

Many Airport 1975 characters were spoofed in Airplane
so i definitely have to check out the two Airplane films after Airport '77 (sadly i donīt own The Concorde... Airport '79 yet)

Airport 1975 trailer

---
Posted by aTomiK (Member # 6575) on :

Hey, this thread is still alive after all!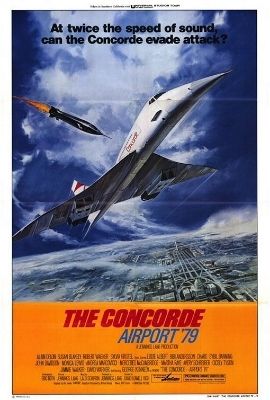 So, i watched both Airport ī77 (1977) and The Concorde... Airport '79 (1979) back in 2013.
Airport ī77 was very good and exciting film with a great cast. The Concorde... Airport '79 was unintentionally funny in many ways but still pretty decent stuff.

I also watched The Poseidon Adventure (1972) which was very good and The Towering Inferno (1974) which is a disaster movie masterpiece. I highly recommend both.

After those two, i checked The Poseidon Aventure sequel Beyond the Poseidon Adventure (1979).
I didnīt like the sequel at all. The story is pretty stupid and i found most of the characters uninteresting.
Especially Celeste (Sally Field) is a pain in the neck, no wonder Michael Caine calls her monkey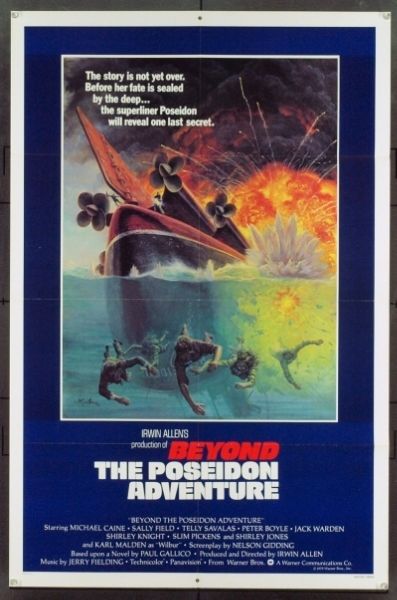 ---
Posted by aTomiK (Member # 6575) on :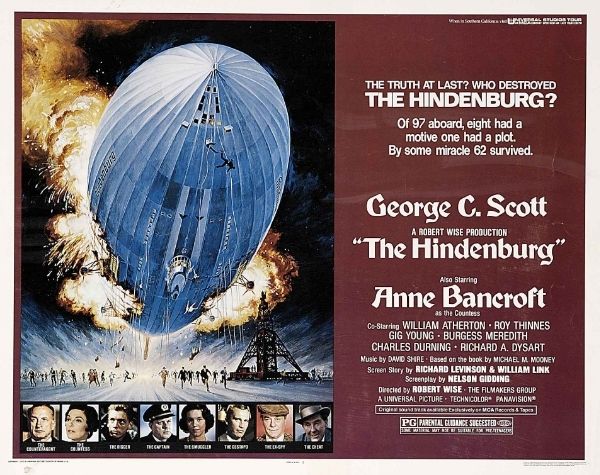 The Hindenburg (1975) was a cool film based on the disaster of the German airship Hindenburg.
The movie mixes truth and fiction so itīs highly speculative.
I liked the cast, the old school effects looked nice and the whole trip to America, while slow-moving, was entertaining enough.
Of course i knew that the thing is going to explode in the end but nothing prepared how shocking the finale actually is!
They use some original newsreel footage with filmed material and show all this in black and white. Very, very strong stuff.

---
Posted by aTomiK (Member # 6575) on :




Watched Earthquake (1974) the other night.
The story follows pretty basic disaster film formula: we get to know the characters, disaster strikes, some survive some donīt.

The Towering Inferno was in production at the same time so they already had the biggest names but Earthquake includes few interesting ones:
Charlton Heston, Ava Gardner, Mr. disaster film George Kennedy and Lorne Greene.
It was also nice to see Victoria Principal, Geneviéve Bujold and Richard Roundtree. Marjoe Gortner plays the crazy salesman/soldier.

I have to say that the special effects look very good. Of course you can see few times that they only trash miniatures but that didnīt bother me.
Also, studio had to make some cuts because the movie was going to be too long so the story suddenly "forgets" some characters.
Anyway, this is good stuff for disaster film fans.

---
Posted by Crash (Member # 7484) on :

Richard Lester's Juggernaut is my favorite disaster film from the 70s. He handles the suspense brilliantly, and he's abetted by this amazing cast: Richard Harris, Omar Sharif, Shirley Knight, Anthony Hopkins, David Hemmings, Ian Holm, Roy Kinnear, and Freddie Jones. Unlike the typical American disaster film, while the film is loaded with acting greats, no one acts like a superstar. (That is, there is no overemoting Shelley Winters swimming herself to death.) Every peformance is realistic and spot on. The film didn't do particularly well in the U.S., and it seems that time has forgotten it, but it is a fantastic example of old-school craftsmanship and style. Lester isn't often mentioned as one of the best directors of all time, but in my book he surely is with, a long with Juggernaut, A Hard Day's Night, Help, The Three Musketeers, The Four Mustketeers, Robin and Marian, and Superman II. Heckuva career!

---
Posted by aTomiK (Member # 6575) on :

Sounds good, Crash. I own Juggernaut and will watch the film one of these days. Lester did some very good movies.
I especially like the Musketeer films and Superman II but i have to say that the Donner Cut is much better.
I also like Finders Keepers which was made in ī84. Try to find it and check it out if you havenīt seen it.

---
Posted by aTomiK (Member # 6575) on :




Gray Lady Down (1978)

"The USS Neptune, a nuclear submarine, is sunk off the coast of Connecticut after a collision with a Norwegian cargo ship.
The navy must attempt a potentially dangerous rescue in the hope of saving the lives of the crew." (IMDb)

This was a decent disaster flick with mediocre storyline and a big enough budget.
The cast inludes Charlton Heston, David Carradine, Stacy Keach, Ned Beatty, Ronny Cox and Christopher Reeve in his first movie as a "yes, sir!" man.

Nothing special really but good entertainment for disaster freaks.

---
Posted by Nostalgic for the '80's (Member # 37454) on :

Though I didn't see them at the time, the ones I remember seeing much later (on DVD) were The Poseidon Adventure & The Towering Inferno. Both great films.

I wonder why so many disaster films came out in the '70's - and also why they were so popular?! It probably had something to do with the public psyche at the time - maybe...

---
Posted by Charles De Mar (Member # 37574) on :

The Towering Inferno.

---


UBB.classic™ 6.7.0