This is topic Terminal Island (1973) in forum Ŧ 70's Movies at iRewind Talk.


To visit this topic, use this URL:
http://www.fast-rewind.com/ubb/ultimatebb.php/topic/8/886.html

---
Posted by aTomiK (Member # 6575) on :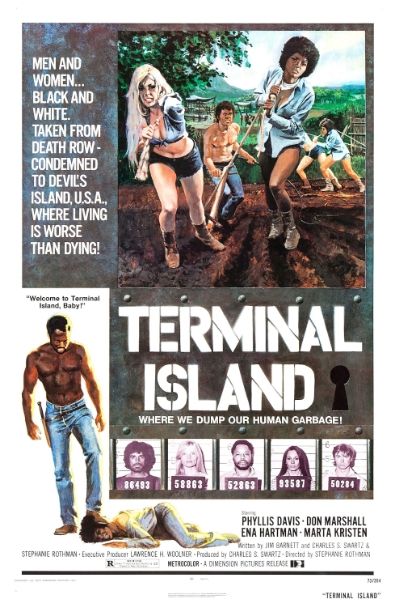 "In the wake of a Supreme Court decision to outlaw the death penalty,
California passes an initiative that designates San Bruno island as a dumping spot
for first-degree murder convicts, free to do what they like except leave.
The main camp of convicts is controlled by the tyrannical Bobby,
who rules with an iron hand, and the women are used as sex slaves.
A.J. and a group of more free-minded murderers have escaped and gone into hiding.
When A.J. and his men liberate the women from Bobby's custody,
tensions mount to an all-out confrontation for control of the island." (IMDb)

Terminal Island is a good exploitation film directed by Stephanie Rothman.
I was surprised that the director is a woman.
She has later said that she was uncomfortable with the violence that she did show.
She was also asked to have a rape scene in the film but could not bring herself to shoot it.

That said, the film still includes enough violence, nudity and weird behavior
to keep us exploitation freaks satisfied


The movie stars Don Marshall, sexy Phyllis Davis, Ena Hartman, Marta Kristen, Barbara Leigh,
Randy Boone, Sean Kennedy, Roger E. Mosley and Tom Selleck as the "Wild Mimosa" sniffing Dr. Millford.
So, future Magnum pals Selleck and Mosley met already in ī73.

Phyllis Davis thinks that itīs too hot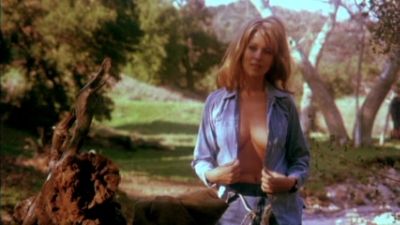 I like the isolated prison area idea and this came way before Escape from New York.
I also liked the cool theme tune "Too Damn Bad" sung by Jeff Thomas.

Check it out!

Terminal Island trailer

---
Posted by Bernie_Lomax (Member # 8571) on :

In all due respect aTomiK, and I do mean it. It seems to me that you have seen a ridciulous amount of films and largely due to the fact that you will watch movies that most would not consider. How do you do it? Do you think I will give this video a chance or do you think I know it will be bad but I am gonna watch it anyway? Sincerely, there is no criticism intended whatsoever but I am ultimately curious.

---
Posted by aTomiK (Member # 6575) on :

Hey, iīm not expecting anything.
I know that thereīs only 2-3 people here who like to watch these kind of films
but iīm not expecting anything from them either.

I love to watch all kinds of films, i like all genres.
I love movies and a film has to be real awful if iīm going to say bad things about it.
I mean real, real awful.

If someone likes to comment my posts, thatīs fine.
Maybe we can get some conversation going (the site has been too quiet lately).

---
Posted by Bernie_Lomax (Member # 8571) on :

It's not this particular movie per-se. I have just noticed that you seem to comment on many obscure movies (to the likes that many, at least I have never heard of). Perhaps it's a generation gap which I have recently noticed is getting smaller and smaller these days. But as a young larrikin invading video shops in the late 80's to early 90's I have certainly not even heard of anywhere near half the titles you mention. This is as sincere as I can put it. Although text does not come across the way you want it to
---
Posted by aTomiK (Member # 6575) on :

Oh, thatīs just because i have already seen the most common/popular ones.
I donīt like to watch same films all over again
so iīm looking for "new" films all the time.

I very rarely rewatch movies - maybe once/twice a month.
But i still like to collect them because if thereīs some reason i need to check out certain movie again - itīs there.
Iīve always been a collector and i always will be
---
Posted by Bernie_Lomax (Member # 8571) on :

Aha....I have certainly been the re-watcher over the years. Many times I felt more comfortable going with a safe/sure bet at the video store than picking out a random and potentially terrible movie. Believe it or not I do seem to think that I have an uncanny ability for judging a video by it's cover. Yes, I may not always be right but most times I am. Collecting sounds like a good idea though. I still have 2 VHS machines. Perhaps I may start collecting at some stage.
---
Posted by Stiggs (Member # 18255) on :

Based on the only screenshot Atomik posted, if I can assume things go well right after that shot, it looks like Terminal Island may actually be worth a watch.

---
Posted by Crash (Member # 7484) on :

"Terminal Island" is one of director Stephanie Rothman's better films. ("The Velvet Vampire" and her stuff on the multi-director patchwork "Bood Bath"/"Track of the Vampire" are probably her best.) Although she has been mostly forgotten except for a few of us 70s exploitation fans, she is an important figure in American cinema, the first real "mainstream" female action director. Think about it. Roger Corman's legacy is amazing. He used women directors like Rothman, Barbara Peeters, and Amy Jones before Kathryn Bigelow came on the scene. And look at the lineage: James Cameron worked for Corman. Cameron was married to Bigelow (little wonder she has such great skills), and then Bigelow directs her testosterone-driven stuff. Without folks like Rothman to pave the way, Bigelow might have wound up like Martha Coolidge, a fine director, stuck in rom-coms and stuff.

Rothman and her husband also started Dimension Pictures, a classic exploitation distributer so beloved that the Weinsteins call their exploitation label "Dimension." She and the other Corman gals get my highest props.
---
Posted by aTomiK (Member # 6575) on :

Nice background info, Crash!
Corman is a legend for sure. I just bought Cormanīs World dvd and also own The Velvet Vampire.
I have to check those out one of these days.

---


UBB.classic™ 6.7.0