This is topic Patrick (1978) in forum « 70's Movies at iRewind Talk.


To visit this topic, use this URL:
http://www.fast-rewind.com/ubb/ultimatebb.php/topic/8/862.html

---
Posted by aTomiK (Member # 6575) on :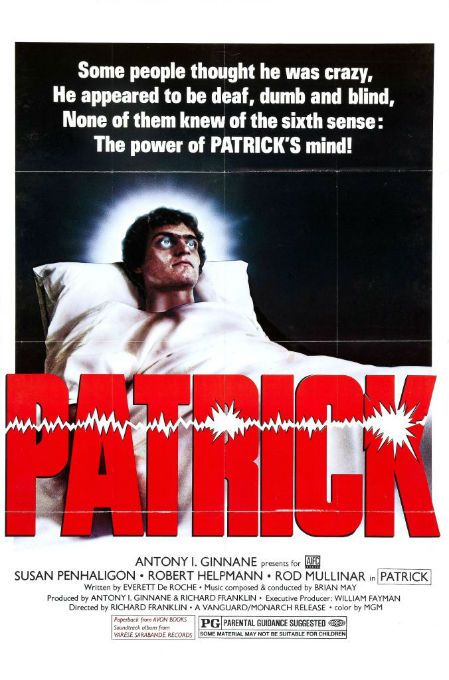 "After the shocking bathtub death of his mother and her lover,
the sinister Patrick lays comatose in a small private hospital, his only action being his involuntary spitting.
When a pretty young nurse, just separated from her husband, begins work at the hospital,
she senses that Patrick is communicating with her,
and he seems to be using his psychic powers to manipulate events in her life." (IMDb)

Just watched this excecllent Australian horror thriller again.
Patrick was directed by Richard Franklin ( Roadgames, Psycho II etc.)
The movie stars Susan Penhaligon, Robert Helpmann, Rod Mullinar, Bruce Barry, Robert Thompson, Julia Blake and Helen Hemingway.

The cast did a very good job, especially Penhaligon. I loved her also in the Verhoeven classic Soldier of Orange.
And it was not easy to play the Patrick´s role. Thompson has no spoken dialog throughout the entire film.
Nor does Patrick blink at all throughout the movie. Special eye drops were used so he could hold his eyes open for up to a minute without blinking.

Gotta love the story and the screenplay, written by Everett De Roche.
The film builds up the tension slowly but steadily. Recommended!

Patrick trailer

---
Posted by Crash (Member # 7484) on :

Good film.

---
Posted by xchazx (Member # 7158) on :

it took me so long to find out what this movie was called. i saw this on hbo around 1980 with my dad. i always remembered the opening scene and it bugged me out because i was only ten and didn't really know what was going on. my old man hates scary sort of movies and changed the channel after the bathroom scene. i actually have no idea what this movie is about but i would like to see it again.

---


UBB.classic™ 6.7.0