This is topic Star Wars: Original Trilogy (1977-1983) in forum « 70's Movies at iRewind Talk.


To visit this topic, use this URL:
http://www.fast-rewind.com/ubb/ultimatebb.php/topic/8/843.html

---
Posted by Valley (Member # 1322) on :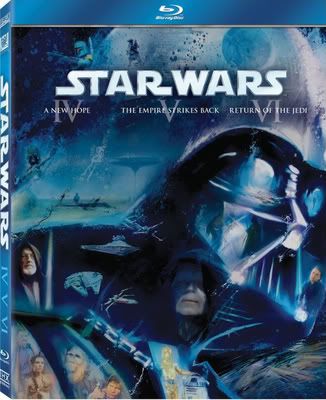 "A long time ago, in a galaxy far, far away... "

Both trilogies of "Star Wars" were released on blu-ray recently, so I wanted to take a moment to start some discussion. Let's talk about the movies and even more importantly what the release of "Star Wars" on blu-ray might actually mean this Christmas season.

Personally, I only purchased the original trilogy because that will always be what 'Star Wars' truly means to me. But I do see a place for the newer trilogy as it provides a link between the generations of fans that cherish this franchise.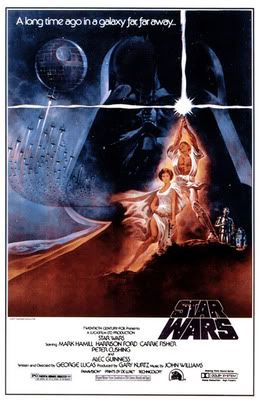 A long time ago .. 1977 to be precise.. a young boy and his good buddy saw "Star Wars: Episode IV - A New Hope" on the big screen and they never looked at movies the same way again. The moment this huge spacecraft engulfed the screen and the theater roared with delight .. they knew this was going to be a special journey they would always remember. Over four hours later after watching it twice in a row.. they emerged from the theater with smiling faces and a vision of the future.




Thus began an adventure that spanned 6 years and included two more incredible "Star Wars" films. Both of these guys attended the premieres together and still occasionally discuss the movies to this day.

The original Star Wars movie with always be my favorite, but "Star Wars: Episode V - The Empire Strikes Back" is widely considered one of the greatest movies ever made. The ending definitely ranks as one of the more shocking moments in movie history. So I can't argue that it deserves a place in many folks Top 20 all-time. It is still #12 on imdb's Top 250 list!

So in 1983, when my buddy and I went to see "Star Wars: Episode VI - Return of the Jedi", it was with great pleasure as we enjoyed the conclusion of an incredible trilogy that shaped our childhood in a way. While this film doesn't quite match up with the other two original Star Wars movies, it does put all the puzzle pieces in place quite nicely at the end.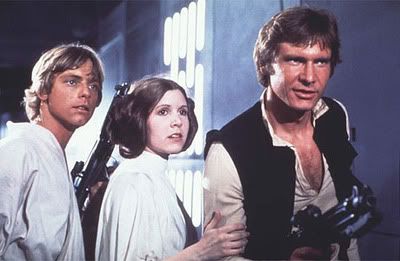 So I sat down last night and watched "Stars Wars: Episode IV" on blu-ray for the very first time. And to be honest, it was like being a kid again. The picture quality was amazing considering the age of the film and the sound was in the blow you away category.

So will the release of "Star Wars" on blu-ray actually cause people to buy blu-ray players and new HD tvs this Christmas season? I actually think that it will if they demo "Stars Wars" at places such as Best Buy this holiday season.

I've read that the newer trilogy is even more impressive with regard to picture quality, which makes perfect sense.. but let me reiterate .. if you are a fan of the original trilogy and have the proper HD equipment which includes a stereo receiver and speakers with the ability to playback lossless DTS-HD Master Audio 6.1 .. this is a must purchase for you.


It is actaully a must purchase if you own a blu-ray player and enjoy the movies. The extras with the comentary tracks is a blast as well.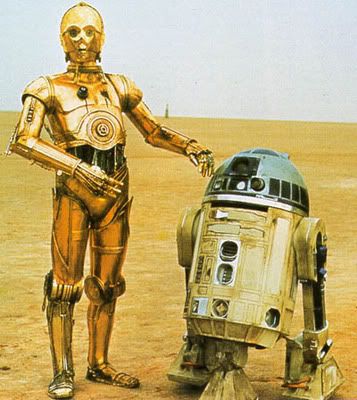 My only caution is for some of you hoping to find "Star Wars" on blu-ray in its 'original theatrical release version' without the years of George Lucas tweeking the franchise to match his overall vision. Unfortunately, for you it is back to your VHS tapes until further notice.

But for everyone else...

Let's have some fun!

[ 23. September 2011, 13:16: Message edited by: Valley ]

---
Posted by xchazx (Member # 7158) on :

i saw a new hope in the theater when i was 7. i didn't totally appreciate it at the time like i would empire and jedi because of my age, but it left quite the impression.

i didn't mind the newer flicks. i actually love II and III. i always thought those movies may have been better had they gone with unknown actors instead of having stars play every role. but i'm also a huge star wars nerd-fan. i know that they could have been done better, but it was worth it for me to finally get to see master yoda in action, and to see exactly how annakin became vader.

i also watch the clone wars with my kids every friday night. i'm hoping that lucas eventually does episodes 7-8-9. i have a feeling if he does, it will be the same animation he uses for clone wars and not real actors.

oh yeah, i don't own a blue ray player so i'll just have to keep watching the dvds i have for now.

---
Posted by Valley (Member # 1322) on :

xchazx.. hopefully you can eventually get to see "Star Wars" on blu-ray! As a huge fan, you will totally appreciate the amazing attention to detail that was given to it all. Even the way that they presented the commentary tracks is brilliant.

I'm definitely a fan of "Star Wars: Episode III - Revenge of the Sith" from 2005. Thought it was a great movie.. and the second movie in the new trilogy was a worthy effort, but unfortunately George Lucas 'Howard the Duck' -ed the 1st movie in the new trilogy. There are many that would've never accepted the new trilogy no matter the quality of the movies, but to offer up such a lame first movie just destroyed his chances with several folks that went into the theater in May of 1999 with an open mind and years of anticipation.


Excellent point about using so many well known actors/actresses in the new trilogy as being a possible distraction of sorts.

---
Posted by Valley (Member # 1322) on :

btw, this came on as I was typing my reply above and ranks as one of my all-time fav commercials:

The Commercial that is on!



---
Posted by Chris the CandyFanMan (Member # 3197) on :

I also give the prequel trilogy a bit more credit than many; if you don't hold them as literally as the decidedly better original trilogy, you'll find them better than you'd think (I consider them the compilations of a chronicler in the employ of the New Republic, trying to compile evidence of Imperial atrocities for presumed war crime trials against regime survivors, and thus what we see in the prequel trilogy is his or her's best guess from whatever he or she compiled as to how the galaxy went down the black hole (read: perhaps not exactly what happened, but as close as we'll ever know)). Regardless, Mel Brooks would have a gold mine awaiting him with the prequel trilogy if he were to attempt an actual, smart Spaceballs II: The Search for More Money

And even all these years later, the original trilogy still strikes a primal nerve. Consider the original and more lasting view of being Jedi we see at the beginning; anyone who just believes enough can become one with the Force. Also that there's always hope for even the worst of us to change for the better if we just take the time to think over what we really value. Moreover, the world we visit is itself quite appealing, both in its worlds and personas, and basically, that's all you can ask for. The battles are intelligently thought out and fought, and we actually do worry about whether or not the good guys can do it (certainly having them come up short on Hoth in an actual sort-of defeat adds to this, but also serves to make the final end of trilogy victory more satisfying).

---
Posted by xchazx (Member # 7158) on :

i believe both of these are for video game, but they are both great anyway:


the old republic trailor

knights of the old republic

---
Posted by Crash (Member # 7484) on :

I have the original trilogy in a heavy laserdisc box set, which contains the theatrical cuts. (Han fired first.) A lot of the special effects, while landmark, do not hold up well in the format, but these are the films that I remember. I am never parting with this set.
---
Posted by Kash (Member # 297) on :

Great write up Valley, I just saw the extras disc and some of the deleted scenes from the original are really good: Lots of stuff on Tattoine that was in the Alan Dean Foster book.

Like many, I'm not as much of a Star Wars fan as I used to be thanks to the prequels and re-releases. But they are all still excellent movies and when you just watch them away from all the madness of constant cash ins, spin offs etc, you're reminded of why you loved the story to begin with.

Still holding onto these, though...


---
Posted by Valley (Member # 1322) on :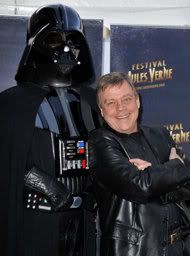 This is not necessarily shocking since I was so young when "Star Wars" was released in 1977, but it still puts perspective on the power of the force.

Mark Hamill was 25 years old when he filmed the original "Star Wars" movie... Today Mark Hamill turned 60 years old!

Mark Hamill was originally slated to play oldest son, David, in the tv series "Eight Is Enough"... Hamill asked to be released from the contract so that he could have a shot at the movie because he thought "Star Wars" would be more of a success.

[ 25. September 2011, 18:24: Message edited by: Valley ]

---
Posted by Chris the CandyFanMan (Member # 3197) on :

And of course did join the Dark Side later...as the voice of the Joker on The Animated Series.

---
Posted by The Good Package (Member # 9492) on :

i find the star wars battlefront game for the xbox highly entertaining even still today.

---
Posted by Valley (Member # 1322) on :




I totally want this when it comes out! My nephew will go koo-koo for Cocoa Puffs when he first sees it.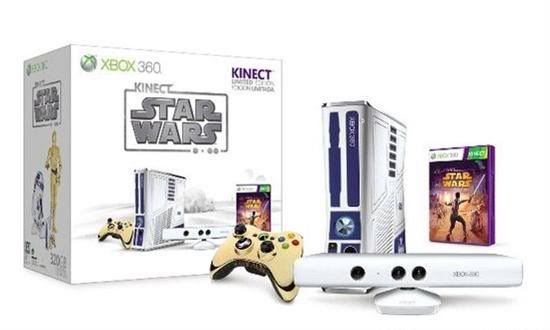 Shall we play a game?

---
Posted by Valley (Member # 1322) on :

So far I've watch the original "Star Wars" film and "The Empire Strikes Back" on Blu-ray. I want to recommend this upgrade to every diehard Star Wars fan! Totally realize that Star Wars in 3-D is on the way, but I'm skeptical about how that will all go down anyway.

I only purchased the original trilogy, but it is so good .. I might have to get the newer trilogy eventually as well.

---
Posted by Logan 5 (Member # 1467) on :

As usual, I'm more moderate when it comes to the prequels... I think they sucked in ways movies had never sucked before. I wanted to scream "MIDICHLORIANS GEORGE? REALLY?!!!!"

However, looking forward to the originals on Blu-Ray (this review has convinced me). Even if they have been further fingered by Lucas to ruin them a little more. There's always the DVD versions that came as 'extra' discs for those that want the originals...

---


UBB.classic™ 6.7.0