This is topic Magic (1978). in forum « 70's Movies at iRewind Talk.


To visit this topic, use this URL:
http://www.fast-rewind.com/ubb/ultimatebb.php/topic/8/800.html

---
Posted by HarryCanyon (Member # 9143) on :

This was the most terrifying movie of my 80's childhood! i saw this about 25 years ago when we moved from New Mexico to San Diego, as we moved into that new house just after living a month in the Holiday Inn hotel. Me and my mother with big brother decided to rent movies as this was one of the first movies rented since my mom saw this in theaters with my dad and big brother who was 6 years old when it came out.

This movie scared the bejesus out of me especially when the dummy Fats attacked the guy with the knife. It made me afraid of my brother's Mortimer dummy as i would ask him to put him away at times so i don't get creeped out.

---
Posted by Valley (Member # 1322) on :

Harry.. I'm in total agreement about "Magic"..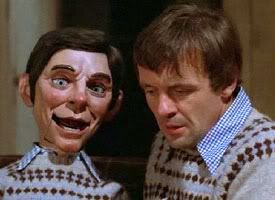 I'm bumping the thread about scary movies from your childhood in the 80's section ..

---
Posted by HarryCanyon (Member # 9143) on :

That doll still makes me shutter, and do you remmeber Making Contact (a.k.a. Joey)? another evil dummy movie but from the 80's? it's the one that has the kid with that evil dummy in the closet in the poster? i did conquered my fear of dummies when i was 11 but Fats and Fletcher still creep me out.

---


UBB.classic™ 6.7.0