This is topic Elvis 1979 Carpenter, Russell... in forum Ŧ 70's Movies at iRewind Talk.


To visit this topic, use this URL:
http://www.fast-rewind.com/ubb/ultimatebb.php/topic/8/712.html

---
Posted by aTomiK (Member # 6575) on :

Bought this UK vhs tape last week.
Itīs the longest (163 mins) version and a nice flick.
Kurt Russell is really awesome.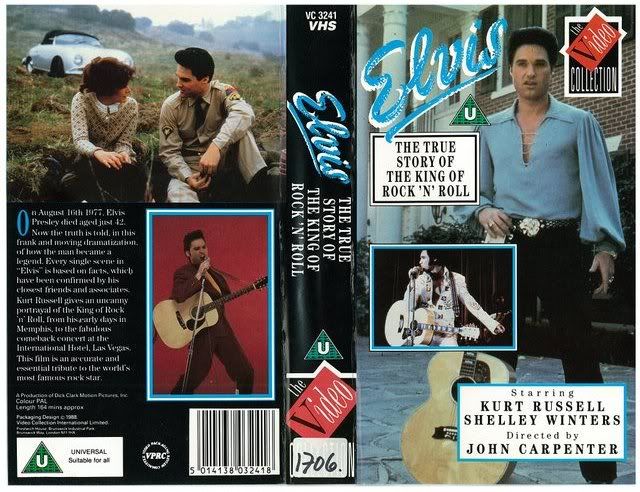 Any Elvis fans here?
Iīm not crazy about his stuff but i like a good Biographical movie now and then.
And of course i like to collect everything John Carpenter has done.

[ 29. February 2012, 04:09: Message edited by: aTomiK ]

---
Posted by 80'sRocked (Member # 6979) on :

Cool aTomiK. I never even heard of this movie, but it looks interesting even though I was never a big Elvis fan either. Be sure to post after you watch it.

---
Posted by Kash (Member # 297) on :

Great movie, Kurt Russell's best performance IMO, can't find it on DVD for love nor money.

---
Posted by buffalo-girl (Member # 7498) on :

i liked this movie too and i thought kurt played a great role one of his best movie's i think!! i have not seen it on t.v. in a while though either i just watched the buddy holly movie with gary busey recently that was good too! dee

---
Posted by aTomiK (Member # 6575) on :

John Carpenterīs Elvis finally on dvd march 2010.


---
Posted by logan5 (Member # 1467) on :

kurt's big post-Disney comeback, and it's a winner. One of the good biopics. This and 'The Buddy Holly Story' are required viewing. Without this we would never have seen Kurt in 'Escape From New York'... 'The Thing'... 'Big Trouble in Little China'. Best not to even imagine such things!

---
Posted by aTomiK (Member # 6575) on :

Just heard that Carpenterīs Elvis is going to get a scandi dvd release this spring. Life is good!

Hereīs the original movie poster:


---


UBB.classic™ 6.7.0