This is topic Vanishing point in forum « 70's Movies at iRewind Talk.


To visit this topic, use this URL:
http://www.fast-rewind.com/ubb/ultimatebb.php/topic/8/668.html

---
Posted by Devolution (Member # 1731) on :

Devolution here,

Any feelings or reviews of this movie? I just watched it and a 1.5 hours of car chase doesn't really do it.

We are DEVO

---
Posted by aTomiK (Member # 6575) on :

I´ve seen it once a long time ago.
I have a feeling that it was a good flick,
but should really watch it again to be sure.

---
Posted by jdocster (Member # 5752) on :

It was considered to be a good car movie back when it came out. For MOPAR (Dodge muscle cars) fans, it was a "must see". I think for it's time it's not bad. If you like this genre it's in your library.

Bullitt
Vanishing Point
Smokey and the Bandit
The French Connection
Gone in 60 seconds
Cannonball run
Dirty Mary Crazy Larry


---
Posted by THX1138 (Member # 7418) on :

Vanishing Point was a great car chase movie for it's time. To view it today without the knowledge of how the country was at the time it was made makes to sense and somewhat an endless movie.

If you really want to see a good depiction of how street racing was in the day's of the V8's/Hot Rods see, 'Two Lane Black Top'

Starring: James Taylor & Dennis Wilson

---
Posted by skibbet (Member # 7760) on :

Well back in the day there was nothing more fun than watching a 2 hour car chase. I had friends that actually went out and bought Dodge Challengers and Pistol Grip Shifters because of that flick. It made Cleavon Little a star in my book.

---
Posted by jdocster (Member # 5752) on :

I had several friends that had the pistol grip shifters in their MOPAR's. I had a bunch of small-block cars myself... Ah, the old days...
---
Posted by aTomiK (Member # 6575) on :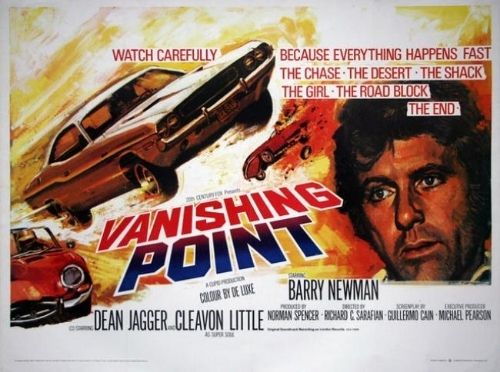 "During the 1970s, car delivery driver Kowalski delivers hot rods in record time but always runs into trouble with the highway cops." (IMDb)

Watched Vanishing Point (1971) yesterday and what a fantastic movie it is!
Of course you can watch it as a car chase film but there´s also so much more going on. 70s counterculture in full blossom here.
Barry Newman so cool as Kowalski, Cleavon Little as big mouthed dj Super Soul talks the talk and provides the awesome soundtrack.
Highly recommended!

---
Posted by Crash (Member # 7484) on :

One of my favorite 70s films...an existential classic.

---
Posted by Pittsburghgirl (Member # 7514) on :

Sounds interesting. Anyone ever see Boulevard Nights? It is considered a 70's "gang" movie, but I remember the actors just cruising around in their fancy low riders.

---


UBB.classic™ 6.7.0