This is topic Carrie in forum Ŧ 70's Movies at iRewind Talk.


To visit this topic, use this URL:
http://www.fast-rewind.com/ubb/ultimatebb.php/topic/8/452.html

---
Posted by Stitch (Member # 2895) on :

I just watched it on Fox Classics. It's truly an astonishing film, definately my favorite of all DePalma films.

Sissy Spacek and Piper Laurie were tremendous and the supporting cast (John Travolta, Amy Irving, Nancy Allen) were just as good.

DePalma's direction and cinematography were first rate, particularly the use of split screens during the carnage at the prom. The close up of Carrie on one half of the screen as she locked the doors, and the other half of the screen showing the doors closing and trapping her classmates inside - wow.

Another great scene was the death of Margaret White at Carries hands (or should I say her mind) in a bizarre mimicry of the statue of Christ in Carrie's closet. Mrs White was basically crucified in a doorframe by various knives, and stuck with numerous knives and spatulas. Definately an appropriately ironic death for a religious nut.

Overall, Carrie is an amazing film, let down only by a silly shock ending which I won't describe here, but it's very out of place.

---
Posted by ISIS (Member # 1780) on :

I love that movie. I remember one of my best friends name was Kerri (sounds the same , spelled different), and she spent the night at my house when we were in the 7th grade, and Carrie was playing on HBO, and that's the first time I had seen it. The shower scene at the beginning was pretty freaky, because I remember having to take showers in gym class...and we all hated it, now they make them optional...but they were mandatory when I was in school, but how scary was what happened to her?? I always liked Betty Buckley...I thought they should have left her make it out of the gym. I liked Nancy Allen and PJ Soles in this movie, even though they were total snobs, they played the part well. I just saw Sissy Spacek in North Country...she played Charlize Theron's mom, and boy did she look old. I saw Amy Irving in Hide and Seek, and I didn't even recognize her. I always thought Amy Irving was cute-I liked her in Micki and Maude and Honeysuckle Rose.

---
Posted by cindymancini (Member # 679) on :

I love the movie Carrie. It is such a classic. The whole way the movie looks and the feel really captures the 70's vibe perfectly. The movie Prom Night is similiar in that way. Good stuff though!

---
Posted by aTomiK (Member # 6575) on :




Rewatched Carrie and what a marvelous masterpiece it is!
De Palma is in top form with great settings, all the different lenses and once again split screen of course.

The cast is fantastic with all those familiar faces. Fun to see Piper Laurie as the religious fanatic mom because i just finished Twin Peaks.
Anyone remember "dirty pillows" ?


And what about that Pino Donaggio score, so atmospheric especially during the "back to home" scene.

Pure classic!

---
Posted by Crash (Member # 7484) on :

Carrie is one of the best horror films ever made for sure. DePalma, who never gets his due, is one of the greatest directors ever. Here's his use of the split-diopter, summing up the whole film in a single shot.



---
Posted by aTomiK (Member # 6575) on :

Love it and he used it again in the "punishment" gymnastics scene.

I donīt think i need to check out the remake but i ordered the sequel The Rage: Carrie 2.
And then there were these rip-offs, they made during the 70s. I have The Spell (1977) and Jennifer (1978).
Fun stuff but nowhere near the original.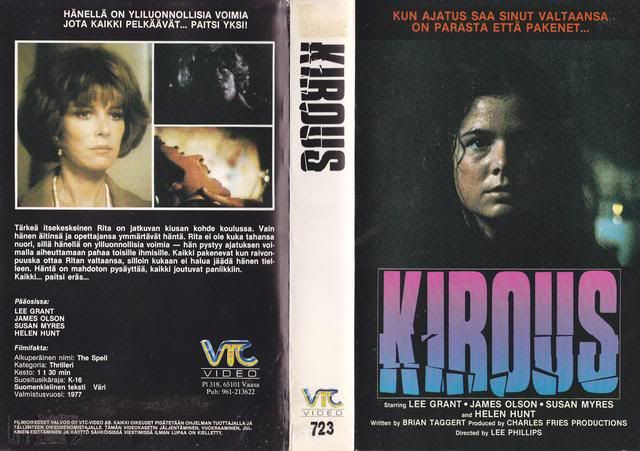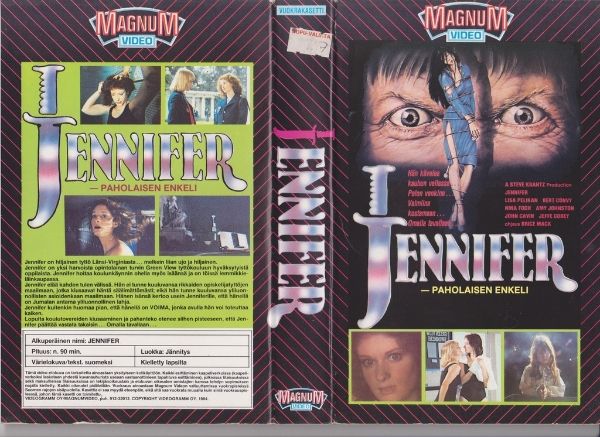 ---
Posted by Crash (Member # 7484) on :

DePalma had a great smart-aleck comment in the documentary DePalma, saying that he watched the Carrie remakes to see what they did wrong.

---
Posted by Johnny Roarke is reckless (Member # 9826) on :

Ooh, i like Jennifer.


Knock-off, yeah.. but surprisingly well done, and the girl playing the lead, Lisa Pelikan, did a good job.

I've never seen The Spell though.

---
Posted by Helen_S (Member # 5804) on :

Yeah you definitely don't need to see the 2013 remake Atomik. I actually prefer the TV remake to that one. The Rage was ok from what I remember.

---
Posted by VLAHAKISA (Member # 37499) on :

It's a brilliant movie, and indeed book.

I am not allowing my daughter to watch the new version of the Carrie movie until she's watched the original first.

I already got her to read the book a few years ago.

I can be a terribly annoying purist when it comes to horror.

---
Posted by Nostalgic for the '80's (Member # 37454) on :

Recently re-watched the 1976 Carrie, and especially enjoyed it this time around. Very well-done horror film & superb adaptation of the SK novel. Sissy Spacek was spot-on as Carrie, and her mom (Piper Laurie) was very convincing as the disturbed, psychotic mother.

It was interesting that as much of a psycho her mother was, she was still right that Carrie's class-mates were going to laugh at her @ the prom.

I think it worked well to not have Carrie's telekenesis be extremely evident until the very end, which made everything that she did much more jarring.

Like a lot of '70's & '80's films, it was interesting to see high-school students played by actors/actresses that were obviously a lot older, i.e. a lot of these people looked like they were in their mid-20's..at least!

However, as good as this film is, it doesn't hold a candle to the original Carrie novel by Stephen King (1973). I read this long before seeing the film, and was extremely impressed, especially since it was his first novel. What was especially interesting was that the story was told in flash-backs (unlike the film, which was linear); there were also numerous sections that were devoted to news-clippings/stories about telekenesis, which was a good complement to the story....Anyway, brilliant novel that should be read by anyone who liked the film.

---
Posted by Helen_S (Member # 5804) on :

Yes the book is great. As much as I love Stephen King's twisted mind I've found some of his novels a bit of a chore but Carrie just flows wonderfully.

---


UBB.classic™ 6.7.0