This is topic The Lords of Flatbush in forum « 70's Movies at iRewind Talk.


To visit this topic, use this URL:
http://www.fast-rewind.com/ubb/ultimatebb.php/topic/8/326.html

---
Posted by Riptide (Member # 457) on :

I have only just seen this movie recently, one of those greaser movies that reminded me a bit of Ken Whal's the Wanderers. Having a pre-Rocky Sylvester Stallone and pre-Happy Days Henry Winkler was kind of cool. I guess this movie put these guys on the map. What do you think of this one?

---
Posted by Ronnie (Member # 465) on :

i have only seen parts of this one. i do remember sly stallone looking very young and i think perry king was in it. i don't know the plot but i remember also, how it reminded me of the wanderers. i'll check it out again someday.

---
Posted by Jessie the Sunflower Goddess (Member # 1877) on :

I did like this one. It has been ages since I have seen it. It is kind of funny to go back and watch all of those guys that are like in their 50's and 60's now. They look so young. Perry King really looked young. Stallone definately got better with age before the plastic surgery.

All in all not a bad flick!

---
Posted by mamamiasweetpeaches (Member # 1715) on :

This is one of my husbands guilty pleasures. It seems whenever they play it he watches it.

---
Posted by StevenHW (Member # 509) on :

I saw parts of this movie once, on TV.

It came out at a time when nostalgia for the 1950's and early-60's were the "in" thing, started out by American Graffitti.

The movie first came out just before Henry Winkler became a big star in the "Happy Days" TV show. So, after Winkler became a huge star, the movie was re-released in theaters. A few years later, the movie Rocky came out, so the movie was in theaters a third time, to take advantage that Stallone was now famous and that two major stars were in a movie together when they were unknowns. It also had a rising young actor named Perry King in it.

Stallone's character is reminiscent of the Marlon Brando character in the 1954 Oscar-winning movie On The Waterfront; namely, the scene with the pigeons on the rooftop.

---
Posted by aTomiK (Member # 6575) on :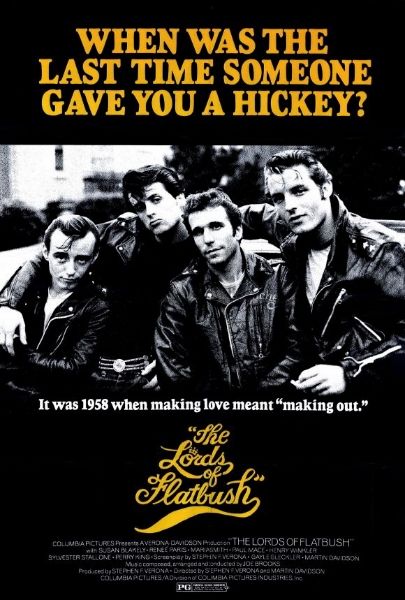 Watched The Lords of Flatbush (1974) the other day.

It´s very low-budget stuff but it´s so cool to see the familiar actors here.
The director can´t really build up any drama, the movie just tells this coming of age tale scene by scene.

Richard Gere was originally cast as Chico (Perry King´s role) but here´s fun story from wiki as Stallone remembers it:

"We never hit it off. He would strut around in his oversized motorcycle jacket like he was the baddest knight at the round table. One day, during an improv, he grabbed me (we were simulating a fight scene) and got a little carried away.
I told him in a gentle fashion to lighten up, but he was completely in character and impossible to deal with. Then we were rehearsing at Coney Island and it was lunchtime, so we decided to take a break, and the only place that was warm was in the backseat of a Toyota.
I was eating a hotdog and he climbs in with a half a chicken covered in mustard with grease nearly dripping out of the aluminum wrapper. I said, "That thing is going to drip all over the place."
He said, "Don't worry about it." I said, "If it gets on my pants you're gonna know about it." He proceeds to bite into the chicken and a small, greasy river of mustard lands on my thigh. I
elbowed him in the side of the head and basically pushed him out of the car. The director had to make a choice: one of us had to go, one of us had to stay. Richard was given his walking papers and to this day seriously dislikes me."

---
Posted by Crash (Member # 7484) on :

That's a great story!

---
Posted by the young warrior (Member # 9554) on :

I know that story came from Stallone but talking of Perry King if you watch him on the extras of I think​ it was the Class Of 1984 Blu Ray the guy is so funny he's an absolute blast and come the end of the interview I was actually thinking to myself now that is one cool dude!

I agree awesome + amusing story Atomik!

Not watched Flatbush in an age so it needs a revisit,to be honest I can barely remember anything about it!

[ 01. June 2017, 10:23: Message edited by: the young warrior ]

---
Posted by Logan 5 (Member # 1467) on :

Ironically, it was only Stallone and Gere who became A-Listers in Hollywood.

I often get Flatbush confused with Wanderer's (which I think was a better movie), but I recall enjoying it.

---
Posted by Crash (Member # 7484) on :

You are right: The Wanderers is similar to, and better than, The Lords of Flatbush. Ken Wahl was in that one as I recall. Although he had a well-regarded TV show in Wiseguy, he too never became an A-lister.

---
Posted by aTomiK (Member # 6575) on :

I also recall that The Wanderers rocks. I´m gonna rewatch it soon so stay tuned.

---


UBB.classic™ 6.7.0