aTomiK
.... has green eyes as well....
Member # 6575





7 Updates!

Member Rated:


posted




---


Just watched Shy People the first time after some 20 years.
It´s still very powerful, magical movie.

Plot summary from Wikipedia:

Diana Sullivan (Jill Clayburgh) is a successful Manhattan writer and photojournalist,
seemingly oblivious to the serious cocaine addicition that her wild child daughter Grace (Martha Plimpton) has developed.
A commission by Cosmopolitan magazine to write an article about a lost branch of Diana's family
leads them deep into the bayous of Louisiana, where they encounter Diana's distant cousin, Ruth (Barabara Hershey).
Married at 12 to an abusive man whose current whereabouts are an increasingly troubling cipher,
Ruth rules over her 3 adult sons, all less than perfectly cogent, with equal parts protectiveness and ferocity,
while a fourth, disowned son adds to the volatility of the situation.
As the fascinated Diana and wary Ruth circle one another, Grace, bored and in grip of her addiction,
toys with her naive cousins with devastating consequences.

Directed by Andrey Konchalovsky (Runaway Train, Tango & Cash)
Starring Jill Clayburgh, Barbara Hershey, Martha Plimpton, Don Swayze, Merritt Butrick,
Mare Winningham, John Philbin and Pruitt Taylor Vince.

Awesome acting all the way.

The Louisiana bayou scenes are breathtaking,
all that beauty and all that trash.

The Tangerine Dream soundtrack is very atmospheric, i love it.
I also have the lp.

Shy People trailer (Cannon Films)

Highly recommended!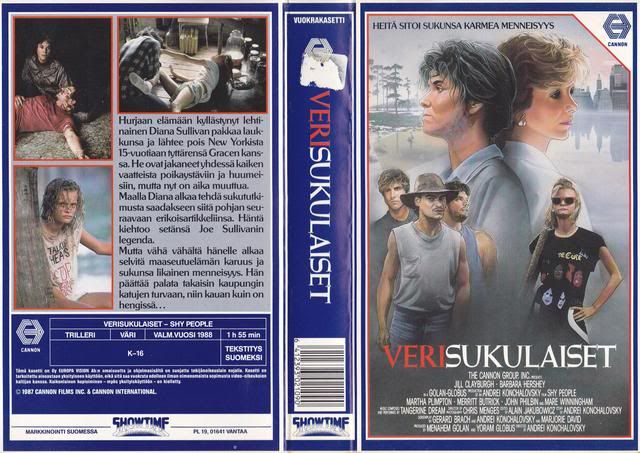 [ 29. February 2012, 12:08: Message edited by: aTomiK ]
---
Posts: 6138 | From: Finland | Registered: Feb 2008 | Site Updates: 7 | IP: Logged |