aTomiK
.... has green eyes as well....
Member # 6575





7 Updates!

Member Rated:


posted




---


"A Korean War veteran/aging trucker spends his retirement mining an old cobalt mine
with the assistance of his devoted grandson. A good friend lures the trucker out of retirement
by offering him a quarter of a 250,000 to drive some plutonium from Nevada to a high-security operation in Arizona.
He begins his trek in a high-tech rig while terrorists are waiting to ambush him and his deadly cargo." (slightly corrected wiki-info)

Thunder Run is an entertaining b-action film directed by Gary Hudson.
I remember that we rented it from one of our local gas station back in ´87-´88.
It was time to refresh the memories!

I like the cast.
We have old timers like Forest Tucker, John Ireland and Marilyn O´Connor.
Guys like John Shepherd ( Friday V, Banzai Runner ), Wallace Langham ( Combat High )
and pretty girls Jill Whitlow ( Night of the Creeps, Ghost Chase, Twice Dead ), Cheryl M. Lynn and Elizabeth Kaitan in a small role.

The plot is paper thin but that´s not important in these kind of flicks.
Get the audience know the cast and add some danger elements and action and voilá! It´s there


Some fine tuning and the truck is ready to go!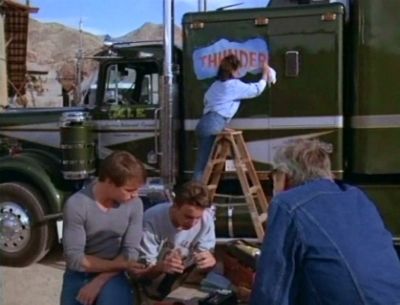 The synth score composed by Matthew McCauley is pretty good.
Jay Levy (Modern Girls, Pretty Smart etc.) had also composed few very nice songs
including the excellent end credits theme tune sung by David Morgan.

See nice Arizona locations, decent cast having fun and solid action sequences.
Not nearly a classic but not too bad either.

Thunder Run trailer
---
Posts: 6082 | From: Finland | Registered: Feb 2008 | Site Updates: 7 | IP: Logged |