Adventures of Buckaroo Banzai (1984)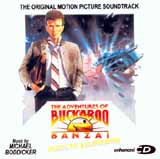 Soundtrack Instrumental Score
Edition
Good Bootleg CD
Country
USA
Status
Out of Print
Release Date
-- Dec 2007
Publisher
Planet Ten Music Inc
List Price
US $24.99
Buy New
US $22.99
Lowest Used
N/A
« CD List of Tracks
01
Security Clearance - Michael Boddicker
02
Opening Theme - Michael Boddicker
03
Penny is Alive - Michael Boddicker
04
Red Lectroids From Planet 10 - Michael Boddicker
05
Buckaroo's Hand - Michael Boddicker
06
Penny's Theme - Michael Boddicker
07
Outtake at Arnies - Michael Boddicker
08
"No Matter Where You Go..." - Michael Boddicker
09
"Laugh While You Can" - Michael Boddicker
10
They're Getting Away - Michael Boddicker
11
Nobody Cumz in Here - Michael Boddicker
12
You Can't Ride That - Michael Boddicker
13
Motorcycle Chase - Michael Boddicker
14
Buckaroo's Speach - Michael Boddicker
15
Turbo Pod On Our Tail - Michael Boddicker
16
Team Banzai Theme - Michael Boddicker
17
"Use More Honey..." - Michael Boddicker
18
End Credits (Short Version) - Michael Boddicker
19
"Since I Don't Have You" - Michael Boddicker
20
Opening Theme Reprise - Michael Boddicker
21
"Where Are We Going?..." - Michael Boddicker
22
"It's Not My Damn Planet..." - Michael Boddicker
23
The 8th Dimension - Michael Boddicker
24
"Presidents on Line One..." - Michael Boddicker
25
End Credits (Long Version) - Michael Boddicker
26
The Banzai Jam - Michael Boddicker
« CD Release Content
Content
Soundtrack Instrumental Score
Artist(s):
• Michael Boddicker
« CD Release Info
There Are
1 CD(s) in Package
CD is
Good Bootleg
« CD Special Features
Extended Version / Bonus Tracks
Booklet / Liner Notes
« Notes
• Thanks to Paula Hughes for the heads-up on this release
†eBay price checked real-time. List price & Amazon last checked 09 Feb 2017. All quoted prices exclude any applicable shipping costs. This service is offered as a guide only. E & O Excepted.