REWIND
REVIEW

My Best Friend is a Vampire
PG-13
AKA: I was a Teenage Vampire
"
A new kind of vampire tale.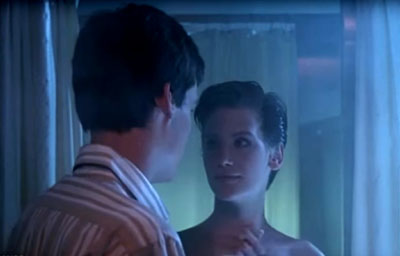 Starring
Robert Sean Leonard, LeeAnne Locken, Cheryl Pollak, Cecilia Peck, Fannie Flagg, Kenneth Kimmins, Evan Mirand, Michelle La Vigne, Harvey Christiansen, David Warner, Paul Willson, Rene Auberjonois, Erica Zeitlin, Gary Chason, Kathy Bates, John Chappell Update Cast
The Original Title for the film is "I was a Teenage Vampire". Have you ever noticed how at the begining of the film the "My best friend is a vampire" title doesn't quite match the credits... Because it was originally just plain red writing like the rest of the opening credits. Also, the song at the beginning "Heartbeat getting stronger" wasn't the original song (it was originally somewhere else in the film... Hence its mention in the end credits). Basically, I think the title and opening song were just changed for video to jazz it up a bit. Why do I know all this?... Because when it was played on satelite TV here, in the UK, years ago, they played the "Cinema Version" with the slow opening song and original title, not as good as "Heartbeat getting stronger", but different.
More Making Of My Best Friend is a Vampire
Crew
Data
Review
This movie is one of the quintessential 80's vampire flicks.

It contains just enough cheese, action, romance and teen angst to fit in with any other teen movie made in the 80's. I was 15 when this movie came out and it instantly became one of my all time favorite movies. Like "Once Bitten" with Jim Carrey it does not seem to take itself too seriously.

It shares its coming of age theme with so many great 80's movies, but uniquely mixes it with a special ingredient... vampires.

Jeremy (Robert Sean Leonard) meets & spends the night with a very attractive girl, who turns out to be a vampire. Despite his incredulity he finds himself turning into a vampire, but figures it's no big deal -despite the help of a veteran vampire mentor called Madoc (Rene Auberjonois) and a handbook entitled "Vampirism - A Guide To An Alternative Lifestyle" he just wants to ignore the advice and continue to have a normal life.

As the transition continues, his need for blood is satisfied by pig's blood, but ultimately he must choose the path he is going to take once he fully transforms.

It is a fun movie and if you love 80's movies, a must see.
Author:
Melissa Ward
Update This Review
Verdict
This movie is just plain fun.

If you like cheese which, as an eighties movie buff, I do, you'll like this movie.

There is a fight scene, teen angst, and a little romance. It is NOT the all dark and broody vampire horror flick.

It uses the vampire change as a metaphor for growing up. I put it up with "Once Bitten" and "One Crazy Summer" and "Vampire in Brooklyn".
Funny and fun.

It does have the eighties cheese factor built right in.
Rewind Rating
The Movie Trailer
Jump To: Music & Soundtrack Vibes
Or use the menu to select another option
1988 Kings Studio
1999-2018 fast-rewind.com
V4.0b Powered by Rewind C21 CMS